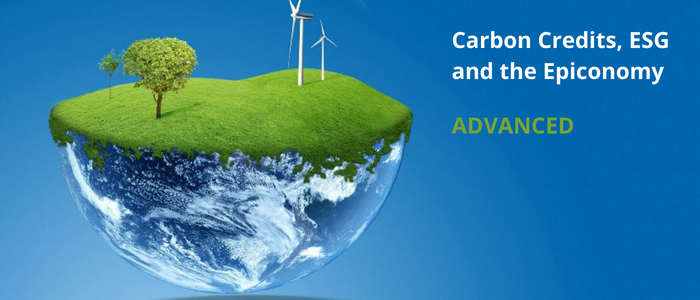 ---
Advanced training about the Epiconomy
This training was designed for those participants with some understanding of the Epiconomy (going beyond the Circular Economy) and that wish to advance their knowledge so that they can learn the ropes of planning, developing, and implementing a successful strategy in terms of eco-sustainability, ESG, green business models, ZerO2Nature projects or other clean development/climate mitigation mechanisms.
By participating in Carbon Credits, ESG and the Epiconomy - Advanced, with a general background about the Epiconomy, you will access the skills necessary for developing, positioning and implementing knowledge on eco-sustainability and communicate this correctly with all the relevant internal and external stakeholders of your business. This includes a clear understanding of eco-sustainability in relation to the United Nations Sustainable Development Goals, the buildout and management of green business models, the reporting and assessment of green initiatives, the consistent approach regarding climate change and all initiatives regarding negative emissions, including reductions of carbon and pollution.
Who is it for:
The course Carbon Credits, ESG and the Epiconomy - Advanced is for training professionals to a degree of excellence in identifying and managing opportunities and risks in the Epiconomy. Participants must have completed an introductory course about the Epiconomy or have a clear understanding of concepts such as baseline, additionality, carbon credit generating mechanisms, green financial instruments, ESG, and greenwashing, in addition to evaluating and communicating technical information correctly.
Upon completion of the course, participants will be prepared to:
Develop, coordinate and execute eco-sustainability programs within a business
Identify the exposure to eco-sustainability risk issues associated with specific sector(s) and/or eco-sustainability issues
Master the steps required to generate carbon credits, green bonds, and/or financial instruments linked to the Epiconomy
Support key business units with the development of eco-sustainable finance solutions and their engagement with clients on eco-sustainable development and initiatives, green deals, carbon credit issuance/retirement and support with their eco-sustainable KPIs.
Signal and initiate new eco-sustainability concepts relevant to your market sector and translate these to the commercial opportunities for your business.
Live Distance Learning:
6 Live-Sessions of 2 hours each
Self-directed learning of approximately one hour daily
2 time slots depending on where you live in the world
Course topics:
Review of the main points of the introductory course
Monitoring the Epiconomy: assessment and interpretation of the media about eco-sustainability
Principles of the Product Life Cycle Analysis (LCA) - Craddle to craddle approach
Principles of crafting a flawless Project Design Document
Consolidated Methodologies on Energy efficiency, Clean Energy, Industrial Processes, Water Preservation, Forest Preservation, and Biodiversity Preservation
Tools, forms, norms, procedures, guidelines, and standards related to eco-sustainability policy, carbon/eco credit generation
Principles of carbon and pollution emission offset
Eco-sustainability Key Performance Indicators
Eco-sustainability strategy design
Eco-sustainability strategy and program implementation
Eco-sustainability risk assessment
Theory and practice behind green bonds
Design of eco-sustainable products
Financial planning of eco-sustainable projects
Documentation in the Epiconomy: confidentiality, disclaimers, proposals, term sheets, ERPA, contracts, etc.
Natural capitalism, biomimetics, holistic solutions and the Epiconomy.
Carbon Credits, ESG and the Epiconomy - Advanced can also be taylormade to companies, contributing positively to the values of eco-sustainability, social responsibility and ethics of the participating group.
For further information, please access the following links:
In case you have any questions, please contact us.
---